If there's one seat that gets you the best view of the action, it is the place right near the boundary ropes. This area is occupied by the ball boys who return the ball back to players once it crosses the boundary so that play can resume without much wastage of time. Ball boys are generally budding cricketers and are chosen from local coaching camps.


While most ball boys are satisfied with autographs and photographs, we spotted one eager player Lalchand - a nets bowler for the Mumbai Indians who was making most of the opportunity.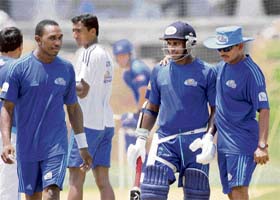 The young pacer saw his fortune catapult at the prospect of bowling to one of the most destructive batsmen in the world - Sanath Jayasuriya.
"I could not believe my eyes when Sanath Jayasuriya stepped on the practice pitch where I was supposed to bowl," says Lalchand animatedly. And was he nervous at any time? "Yeah I was, initially but started with some good length deliveries and he was effortlessly creaming me with his drives."
Lalchand later reveals the biggest moment of his life. I decided to surprise him and bowled a short one. It bounced considerably and hit him on his chin. He never expected it from a nets bowler like me."
The Matara Mauler has spared no bowler the world over and this must have hurt his ego if not his chin though. "Yes, the next ball I bowled to him disappeared in the stands," the cheeky bowler says with a grin on his face.
He also had a brief interaction with Shaun Pollock who passed on some of his tricks which he mastered over the years to the youngster. "I could only swing the ball one way, he taught me to do it both ways." Lalchand could not have chosen a better venue to implement what he had just learned. "The next day, were the selection trials for Mumbai U/19 team and I decided to try that out. It came good and I am hoping to get picked for Mumbai."
If this wasn't enough, he somehow made it to Sachin's nets the next day where the master blaster was busy setting up the bowling machine. "I completely froze when I saw Sachin next to me. There were just three of us - Sachin, Rajput sir and me. I was gathering the balls and handing them over to Rajput sir who in turn was putting them in the bowling machine."
This is indeed a special moment as Sachin, who still follows conventional training methods seldom practises with the bowling machine.
Lalchand signs off by saying that all this is done to get into the Mumbai Indians team for the next season and one person who can make it possible is the one with whom he shares his name, Lalchand Rajput, the coach of Mumbai Indians.